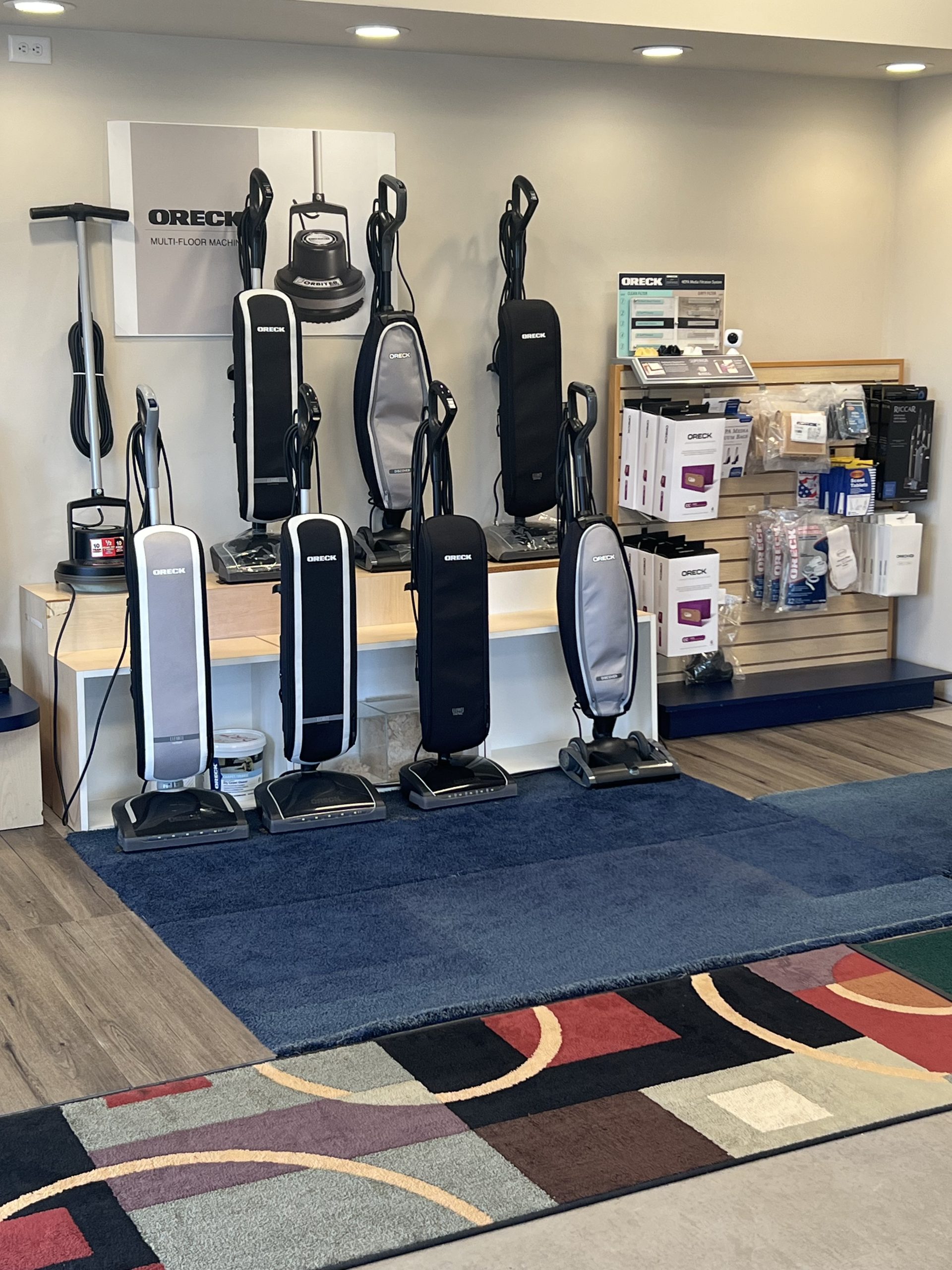 Know your floors.

A condo in Arizona that is mostly ceramic tile needs a very different vacuum than a home in Ohio with wall-to-wall plush carpeting. So before you even begin your search, take stock of your home and identify all the different types of flooring you have, and take special note of your carpets and rugs. 

Modern carpeting and rugs come in a much broader range of styles than the standard cut-pile, wall-to-wall most of us grew up with. Looped, knotted, twisted and woven carpets are common nowadays and they require a more delicate touch.  Some carpet warranties now even specify the kind of vacuum that must be used or the warranty is voided, so be careful. Double check the material the carpet is made of and measure the pile.  Anything made of wool, or any pile over 1-inch long should be treated with special care.  Most homes have just one or two types of carpet, but if you have a variety of different types of carpeting and bare floors, be sure to choose a vacuum that has tools available for the most delicate rug you own.  Usually a canister is the best choice for multiple carpet types, which leads us to the next step…

Canister or Upright

The general rule of thumb is:  If you have more bare floor than carpet, you should choose a canister.  If you have mostly wall-to-wall carpet, an upright is fine, but there is more to consider than just the flooring when choosing a canister or upright.

While uprights are still the most popular style of vacuum in the U.S., canisters are most commonly used throughout the rest of the world. Recently however, canisters have been making a comeback here in the states. People are discovering that the canister type of vacuum has several advantages over a traditional upright:

Weight:  Because the main body and motor are behind you, the tool you push and pull weighs only two or three of pounds.  Most uprights are between 15-20 pounds making the canister much easier on your back and shoulders.

Versatility:  Canisters usually have a bigger range of brushes and accessories to choose from, making it easier to get the perfect combination for any type of flooring.   In addition, the canister's ability to instantly clean under most furniture means less moving around stuff to get the house truly clean, plus you don't have to reconfigure the hose and tools as you do on an upright.

Easier Stair Cleaning:  Trying to lift the whole upright or balance it on the stairs is a real challenge.  Many modern canisters are designed to actually sit securely on the stair while you vacuum with the long hose.  When you've finished with five or six stairs, you just place the canister on the fifth stair and finish the rest.   

Uprights on the other hand have one major thing people prefer over a canister:  they are one-piece instead of two.  Once you are used to operating a canister, you'll probably never go back, but for some people, the one-piece simplicity of an upright is the only thing they are comfortable with.  If you have mostly carpet and just can't bear using a canister, definitely stick with an upright, but make sure it has all the features and accessories that best fit your flooring.

Bagged or bagless?

Bagless vacuums have a lot going for them, not the least of which is very low operating costs because you don't have to buy bags. But on the flip side, they do require more maintenance; bins must be emptied, interior parts wiped down and filters washed and dried.  All this is well worth it to some people, while others prefer the ease of just dropping a bag into the garbage bin.

If there are people in your home who have serious allergies or asthma, we recommend getting a sealed HEPA vacuum with a bag.  A fully sealed bagged vacuum is much more hygienic and exposes the user to significantly less dust during maintenance.

The bagged –vs- bagless debate rages on, but one thing is certain, if you want a high-quality vacuum and you want a bagless vacuum, there is only one product that meets both those criteria:  Miele. Miele simply makes the best quality bagless vacuum you can buy and is the only bagless vacuum we recommend.

Choose a Budget

How much should you spend on a better-quality vacuum? The short answer is- somewhere between $399 and $899.Within that range, you can buy something that is made well and will last 10-20 years. If that seems like a lot of money, consider this:a vacuum is something you use at least once a week and sometimes every day.  Because better quality vacuums last up to 10 times as long as cheap vacuums, in the end, you'll pay about $5 a month to own a quality tool that works better and is a pleasure to use.  It's a no-brainer.

There are several high-quality vacuums for bare floors and area rugs in the $300 range, but vacuums for wall-to-wall carpet start a bit higher than that because of their more complicated and expensive revolving brush systems.

Here are the best vacuums with different budgets:

Under $399

There are very few quality vacuums at this price point and almost all of them are for homes with only bare floors and area rugs or very flat carpeting.  If you have wall-to-wall carpet in your home and want a quality vacuum, you'll have to up your budget a bit ($399+).   

$399-$699

This is the sweet spot for buying a quality vacuum cleaner at a reasonable price.  At this level, you may not get all the extra features you want, but you will get the higher-quality plastics, durable motors, and excellent performance of a well-designed, well-made vacuum. 

$700 & Up

At the very top of the vacuum, market is where you will find all the best features. Even though basic performance and quality stay the same as the mid-range models, vacuum cleaners in this top range offer better fit and finish, quieter noise levels, increased filtration, and niceties such as automatic suction control, lighted floor tools, and soft, cushioned bumper guards.

While it is never absolutely necessary to purchase something in this range-it sure is nice if you can afford it.  Extra features like these make vacuuming a bit less of a chore and are well worth it if the budget allows. 

Choose a Brand

There are currently over 200 vacuum models for sale in the U.S., but there are really only about ten major vacuum brands on the market today: Hoover, Eureka, Dirt Devil, Bissell, Oreck, Kenmore, Miele, David Vacuums, Dyson, and Electrolux.  The problem is only a few brands support their products with parts for repairs.

Of those ten major brands, only three of them are considered truly "premium quality":  Miele, Oreck, and David Vacuums.

These three brands offer customers a superior combination of the five main criteria

Superior Materials (abs plastic, stainless steel),

Superior Durability (10+ years motors, crush-proof hoses, permanent belts)

Superior Design (ergonomic handles, height-adjustable wands, rubber wheels)

Superior Filtration (True HEPA filters, sealed body, top-mounted exhaust)

Superior Warranty (5-10 years depending on the model)

 

Each of the Three brands specializes in a different area:

Miele is a German manufacturer that makes top-quality vacuums in the widest variety of models and price ranges.  They offer the longest life expectancy (20 years) one of the longest motor warranties (up to 5 years), and the highest filtration available in a residential vacuum cleaner 

Oreck is made in the U.S. and has earned its reputation for making the finest vacuums available. That singular, consumer-satisfying goal continues to drive Oreck: to provide easy-to-use, lightweight, and durable vacuums.

David Vacuum is made in the U.S. and was founded by Tom Oreck, David Oreck's son.  The David vacuum is a tribute to Tom's father and is the most powerful lightweight upright on the market.  If you like the Oreck vacuum you will love the David Vacuum.

Regardless of which brand is the best fit for you, follow the advice above and you'll be able to confidently choose a high-quality vacuum that will be the right model for your flooring and your budget.